Schwinn Traveler Fixed Gear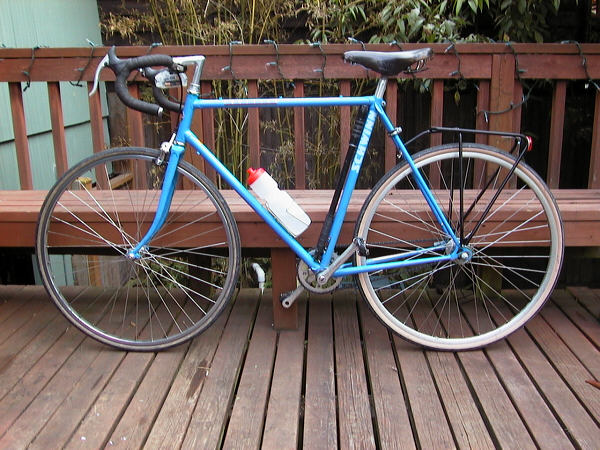 I have been reading about fixed gear bicycles for a couple of years, and finally found a cheap bike to use as the basis for one. I find this bike incredibly fun to ride around town, and it works pretty well for commuting too. The lack of shifters, derailleurs, and other components make the bike much lighter than most of my bikes (even though the frame is quite heavy). The gearing is 39x16 fixed, or 39x18 if I flip the wheel around.
I love jumping on this bike after riding my recumbent for a long time. The contrasts are great -- the recumbent is setup for loaded touring, weighs a lot, is complex, and has 63 gears. This bike is lightweight, simple, and has one gear. Both bikes have their places in my regular rides.
Front Derailleur - none
Rear Derailleur - none
Crankset - Sugino 165mm, 110mm BCD, 39t chainring
Pedals - Shimano SPD 535s (LX)
Brake Levers - Diacompe Gran Compe Aero. Right lever has hood only.
Brake - Shimano RX100 dual-pivot long reach.
Saddle - Brooks B17
Rear Rack - Tubus Fly
Front Wheel - Shimano 105SC hub, Mavic MA-2 rim, 36 2.0/1.8 DT spokes, Avocet Fasgrip 20 28-622 tire.
Rear Wheel - Suzue Flip/Flop hub (modified to have QR axle), Torelli Master rim, 36 2.0 DT spokes, Avocet Fasgrip 20 32-622 tire. 16t fixed, 18t freewheel cogs.
---
I have more bicycle information on my main bike page. alex@phred.org