1999/2000 Rans Rocket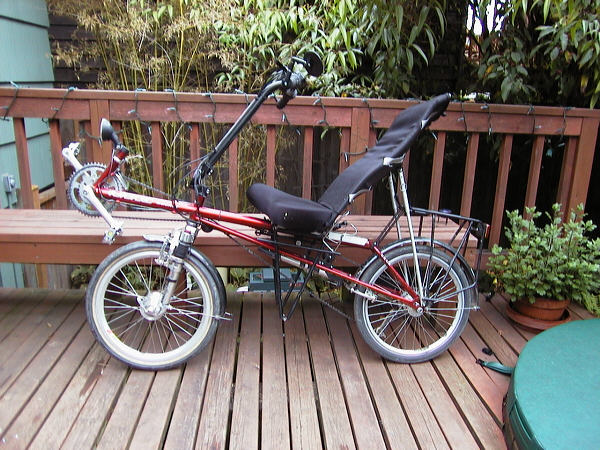 Overview
I bought the Rans Rocket to replace the Vision VR40 that I previously owned. The Vision was a nice first recumbent because it showed me what I liked and didn't like, and the Rans Rocket solved most of my dislikes while remaining affordable.
The Rocket is a short wheel base, above bar steering bike. The bike handles wonderfully. It corners like nothing else that I've ever owned, climbs great, and has very natural handling. I find it comfortable for long, relaxed rides and very aggresive short rides, and that seems unusual. I've used this bike for commuting, club rides, and fully loaded touring. It is a great touring bike when properly setup.
Components
Frame - Rans Rocket SWB recumbent
Forks - Ballistic XL600II for 406mm wheels
Front Derailleur - Shimano 600 double
Rear Derailleur - SRAM ESP 7.0
Crankset - Sugino AT 50/45/28 chainrings, 110/74bcd, 170mm crank arm length
Pedals - Shimano 545 clipless
Shifters - SRAM Gripshift ESP 7.0
Brake Levers - SRAM ESP 7.0
Brakes - SRAM ESP 7.0
Saddle - Rans Recumbent seat
Rear Rack - Tubus Cargo
Front Rack - Bike Depot Rans Underseat Rack
Front Wheel (generator) - Shimano HB-NX30 generator hub, DT 14g spokes, Velocity Taipan rim
Front Wheel (no generator) - Shimano LX hub, DT 14g spokes, Velocity Taipan rim
Rear Wheel - Sachs 3x7 hub, 7sp 11-28 cassette, Velocity Aeroheat AT 406mm rim, 14/15g spokes
Tires - Conti Top Touring or Tioga Comp Pool
Headlight - Lumotec Oval
Modifications and Accessories
Gearing
As with all of my bikes I've made a couple of modifications from the stock bike. I switched to a crank with 110mm BCD so that I could swap chainrings easily (I keep a wide range of 110mm BCD chainrings on hand). I used traditional halfstep plus granny gearing on the crank, which gives me very tightly spaced gears and a good low gear. I added a 3x7 hub to get very wide range (14" to 110") gearing for climbing and descending hills. The cassette on the bike is a semi-custom Shimano 11-13-15-17-20-23-28 7sp cassette with 8sp spacing. It uses 8sp spacing because I have 8sp shifters, with one of the gears locked out.
Pump Peg and Toolbag
One of my few dislikes about the Rans Rocket frame is the lack of a pump peg for a frame pump. I built my own bracket that holds a water-bottle mount pump below the bottom tubes. At the same time I built a similar bracket that mounts under the seat and holds my toolbag. This toolbag has a quick release that I use to swap it between all of my bikes, and it is nice to easily be able to use it on this bike. The toolbag mount is not currently in use because the underseat rack mounts in almost the same location. The toolbag bracket is not currently mounted, but an old picture of the bike shows how the bag looked when mounted.
Lighting
I built a front wheel for this bike which uses the Shimano Nexus generator hub. It works very well and is affordable. The switch is mounted on the underseat rack and is in easy reach while riding. The headlight is mounted on the front derailleur boom. I originally used a standard Lumotec light, but switched to the Lumotec Oval because it is narrower and my feet would sometimes hit the wider round light. This picture shows the hub and switch location.
Bike Depot Underseat Rack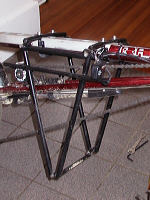 This rack is designed for mounting under the seat on Rans recumbents. It mounts to the seat track and easily holds a pair of small panniers (and might work with large ones, I still need to try that). The panniers are in the ideal location on the bike -- the weight is centered and low to the ground. Unlike fork-mounted racks the steering is not affected because there is no baggage weight on any steering components. These racks make the Rocket into a great touring bike, while without them it handles very poorly when heavily loaded (because all of the weight ends up over or behind the rear wheel). There are more pictures of my touring setup below.
Quality wise the racks are very well made. All of the hardware is stainless steel, and the tubing used for the racks is very large and stiff. I have only used them with Ortlieb Mini-Biker panniers, but these fit on the racks perfectly. You can adjust the height of the rack by about 3cm on each end by flipping over the clamp assembly. I would recommend them to anyone who is looking for a way to tour on their Rans recumbent.
You can purchase the underseat from:

BikeDepot
900 Main St.
Hays KS, 67601
785-625-5685
bikedepo@ruraltel.net
Mountainsmith Lumbar Pack as a seat bag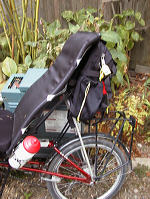 I modified a Mountainsmith Day Lumbar bag as my back of seat bag. I did this instead of buying the Rans seatbag because the Mountainsmith bag was easier to carry when it isn't on the bike (I just put it around my waist). I mounted it to the seat with standard compression strap hardware. At the top of the seat I put two clips that connected to the shoulder mount on the bag. These clips were connected to the seat through nylon webbing that ran down through the inside of the seat and bolted onto the water bottle cage. At the bottom of the seat I put two clips behind the water bottle cage which connected to straps mounted on the bottom of the bag. Here are some pictures that might be more helpful:
Touring Comments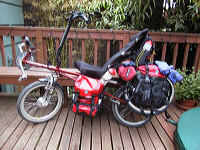 I recently used this bike for a fully loaded tour across much of Washington State. Here are a few pictures of the loaded setup:
The underseat rack from Bike Depot really made loaded touring on this bike possible. I did some rides around a parking lot without that rack and the bike was very back heavy and handled poorly. With the underseat rack mounted and most of my heavy gear (food, water, tools) in the underseat panniers the handling was back to normal.
The wide range gearing on the bike was very helpful when climbing hills. I was able to make it up most hills in my lowest regular gear (28x28, 19"), but sometimes the "super granny" made possible by the 3x7 hub (28x28*.73, 14") was nice for giving my knees a break. I rarely used the top end gearing on the bike, choosing to coast down most hills instead. My top coasting speed was 40mph (probably limited by curves on the road and the aerodynamics of my touring setup).
I didn't find the suspension fork to be useful while touring. My bike was still somewhat back heavy and there wasn't enough weight on the fork to really make it active. In the future I will play with the weight balance on the bike to see if I can shift more of the weight forward onto the front wheel.
Overall the bike handled wonderfully. It climbed well and was a lot of fun to descend on. There was no shimmy even though my panniers were not evenly loaded. Having no pannier or handlebar weight on the steering really made it relaxing to ride. We did some riding on dirt roads and I had no troubles controlling the bicycle there. My rear seat bag did a decent job of replacing the handlebar bag as a place to keep valuables, although it wasn't as easy to reach while riding. I plan on using this bike for my future tours.