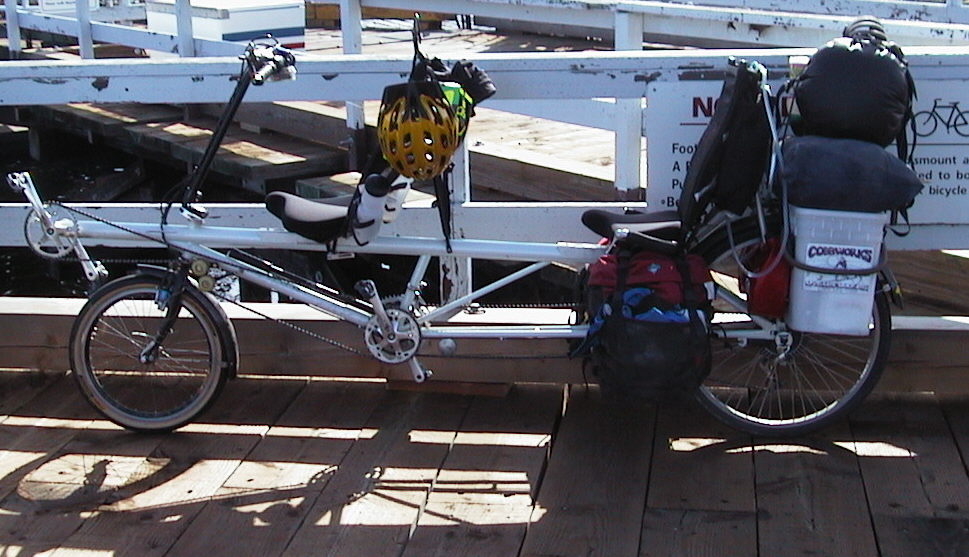 We bought this tandem in the spring of 2001 to replace our older upright tandem. Christine and I have mostly enjoyed our upright tandem experiences, but Christine had a lot of trouble getting comfortable and I found that I really enjoyed my recumbent single bike. I bought the bike as a frame from Zach Kaplan and built the bike using a mix of new and slightly used parts. I'm very happy with how it rides, and Christine is a lot more comfortable on it then she was on our upright bicycles. I have also used this bike on a couple of loaded touring trips with some friends.
Frame - RANS Screamer XL, painted pearl white
Fork - RANS tandem fork. I also have a Ballistic XL600II (the recommended suspension fork for this bike), but really don't like it. It raises the front end an inch or two, is heavy, and is another mechanical device to break. I don't really find the suspension to be effective or to give me a better ride.
Front Derailleur - Shimano RSX
Rear Derailleur - SRAM 7.0
Crankset - Thorn tandem (50/38/24, 38 crossover, 170/165mm lengths)
Pedals - Shimano SPD 535 (Speedplay Frogs in the stoker area when I ride with my wife)
Shifters - SRAM 7.0 8sp
Brake Levers - Magura HS-33
Brakes - Magura hydraulic
Front Rack - X-Eyed Underseat
Rear Rack - Tubus Cargo
Fenders - Zefal
Front Hub - LX
Front Rim - Velocity Taipan
Front Tire - Usually an Avocet Freestyle
Front Spokes - 14 gauge DT
Rear Hub - Phil Wood Tandem, 12-32 8sp Shimano cassette
Rear Rim - Sun Rhyno Lite, 48 hole
Rear Tire - Usually a Ritchey Tom Slick 1.4 with Kevlar bead.
Rear Spokes - 14/15 gauge DT
I've used this bicycle on a couple of tours and think that it is a great touring tandem. One of the advantages that it has over other production recumbent tandems is that you can easily put four panniers on it by using an underseat rack and a rear rack. The underseat panniers can be full size (I use Ortlieb Bike-Packers), making touring with no trailer very easy. The picture above is from a touring on Vancouver Island, BC (it was taken at the Crofton ferry terminal). My packing system is simple:
Front left pannier - captain's clothing
Front right pannier - stoker's clothing
Rear left pannier - food
Rear right pannier - toiletries, stove, first aid, lantern, tools
Lower bag on top of panniers - tent, two sleeping pads. The bag is a large tent stuff sack that I find on the side of the road while touring.
Upper bag on top of panniers - sleeping bags, camp pillows, and spare tires. This bag is a "Seattle Sports" waterproof compression sack (I found it at a kayaking store). Our lock is held in place by a buckle at the top of this bag.
The rear panniers are Cobbworks Oyster Buckets, which make a wide and flat platform to tie down the tent and sleeping bag stuff sacks. I use the expedition straps (an option that you can get from Cobbworks) to hold down the bags on top. These are wide and heavy duty compression straps that clip into buckles bolted onto the side of the buckets. My buckets also have some custom modifications. I have added two Ortlieb accessory bags to them for holding items that I need quick access to (camera, wallet, snacks, etc). I've also made some retention locks which fit up underneath the rack tubing and prevent the pannier from bouncing off. This is an idea that I copied from Arkel OD and it works really well. This picture and this other picture of the panniers show the modifications in detail.
On the rear of the stoker seat I have two Platypus hydration bladders. These each hold 2 liters of water and when combined with the two water bottles give us a capacity of almost 6 liters of water. I find that it is rarely necessary to carry all of this water, and usually only one of the Platypus bags is kept full.
Tandem touring without a trailer is wonderful. The bike handles very well when this loaded, and our rear wheel has had no problems with the load (but it is also a very well built wheel). The bike is a lot more compact than it is when pulling a trailer. I love my trailers for shopping around town, but I am glad that I don't need to pull one for touring.