Swift Folder Fixed Gear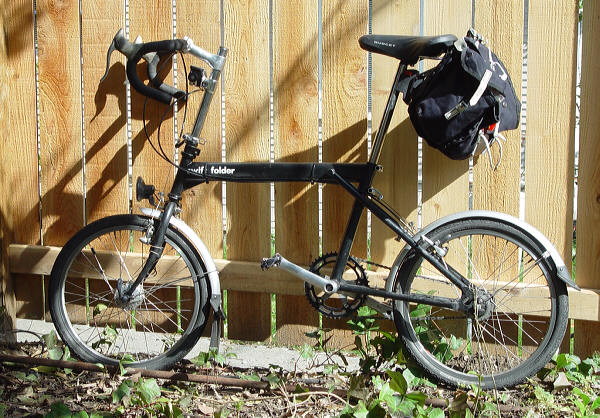 I like being able to travel with my XO-1, but wanted something which packed more easily for taking on short trips. I also liked the simplicity of my fixed gear and thought that a fixed gear folder would be cool. A member of the touring list had a Swift Folder that I thought was pretty interesting. I did research into my options and determined that the Swift Folder would be the best option for my needs (affordable, handles well, available as a frame only, has dropouts suitable for fixed gear use, folds well, uses 406mm wheels).
This bike handles great. The frame and stem are stiff, even with the long stem riser and seatpost. When pushing on the bottom bracket the frame seems to have less flex then my road bikes, and I can hardly flex the stem back and forth. It quick folds into a pretty small package for storage and putting into car trunks.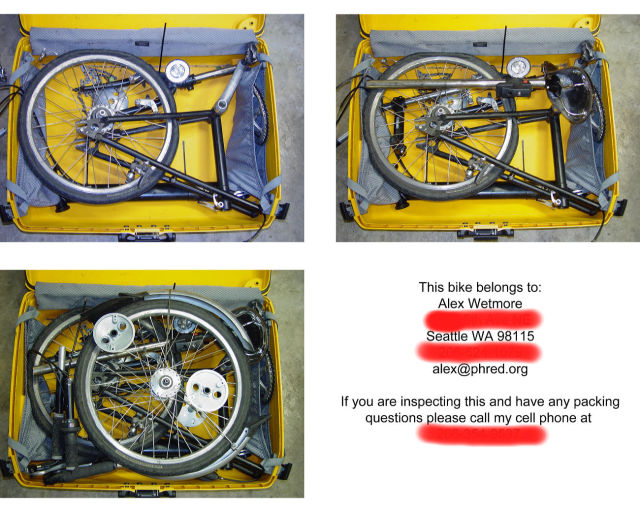 This picture is taped into the top of my suitcase to remind me how to
pack it. I doubt that the contact information will ever get used,
but it doesn't hurt to have it there.
To pack the bike for airline travel I put it into a a Samsonite 29" Oyster suitcase. It packs fairly easily when the front and rear frame sections are seperated (they are held in place by a single bolt and the seatpost). The rear rack and fenders need to be removed for packing into this suitcase, but a slightly larger model (1" wider, like 30x22x10) wouldn't. The rack also slightly gets in the way of quick folding, but I'd rather have it there anyway. My fenders are held in place with wing bolts, so they can be removed in a couple of minutes. The rear rack could also be setup this way, but I don't want it to be stolen, so I'm using standard bolts.
Note that Swift Folder might be using a threadless steerer on their fork now. This is a good thing, except that it might not allow the bike to fit into the Sampsonite Suitcase without removing the fork. The picture above shows how I pack my bike with the threadless fork. I believe Peter at Swift Folder is working on new options here.
I'm also experimenting with lighting on this bike. It has a Shimano hub generator which is connected to a Budget Battery Charge Regulator (BBCR) designed by bikecurrent and touring list member Steve Kurt. You can see the BBCR mounted on the stem riser. It contains a circuit and 5 AA batteries which are charged by the generator, and in turn power my headlight. This system keeps my headlight turned on even when I am at a stoplight.
Crankset - Shimano 165mm, 130mm BCD, 47t chainring
Pedals - Shimano SPD 535s (LX)
Front Brake - Avid Shorty 15C
Rear Brake - Shimano STX-RC (better heal clearance)
Saddle - Brooks B17
Cargo Carrying - Carradice Camper and SQR
Front Wheel - Schmidt SON20 hub with Sun CR18 rim. I share this wheel with my recumbent, and have another regular to wheel to use when I don't need the generator.
Fixed Rear Wheel - Suzue Flip/Flop hub (modified to have QR axle), Sun ZJ18 rim, Primo Comet tire. 14t fixed, 16t freewheel cogs.
Geared Rear Wheel - Sachs Super 7 hub with Sun CR18 rim.
Fenders - Dahon with various bits from other fenders.
Headset - Cane Creek C2 Threadless (cartridge bearings make it less messy to pull the fork for packing).
Handlebars and stem - Trek System 2 drop handlebars. 135mm threadless stem. The auxilary bars are cut down mountain bars with a 60mm stem. These hold the Sachs Super 7 shifter and my bike computer.
---
I have more bicycle information on my main bike page. alex@phred.org